Legstand
As we like to say, "We're taking a stand. One leg at a time." A stand for what? Only time will tell. For the time being, enjoy the pictures, videos, music and other goodies that will be on offer from time to time.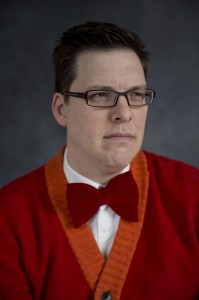 Though it rates very low in relative popularity compared to other months ending in "y", February consistently ranks at the top of months beginning with F. We celebrate February and it's dualities and a host of other words beginning in F including fake, false, failure, fiasco and, perhaps incongruously, flapjack. In other words, February is a fucking mess and anything can happen. Fortunately, Spring arrives as early as late March!
Looking for a special ticket deal?  We have one!
Head to kriselgstrand.bandcamp.com, pay $7 to download Songs of the Sad Sack, Volume 1 and you'll be put on the guest list for the February show. It's that easy. Sign up for our mailing list and we'll make it a 2 for 1 ticket to boot! It's never been so easy or so cheap!
Kris Elgstrand's Social Anxiety Hour – F for February
Sunday 17 February 2013
7:00 PM
Doors at 6:30 PM
Little Mountain Studio
195 East 26 Avenue (East 26 & Main)
Vancouver, BC
Tickets: $10.00
Kris Elgstrand's Social Anxiety Hour fairly and squarely fires up February at Vancouver's favorite Little Mountain Gallery. Following the fantastic opening show to the year, cast and crew are falling all over themselves to failure-proof the February episode. Fresh off a couple of gigs at Fuse at the Vancouver Art Gallery and the Sad Sack Cabaret at the Push Festival's Club Push, the ever saddening sack of a host Kris Elgstrand is welcoming comedic, musical and downright parenthetical entertainments by some familiar faces in Christina Sicoli and David Milchard, Arabella Bushnell, Brad Dryborough and other guests. If there was ever any question, tap dancing will take the stage! Only the faint-hearted should even consider facing up to their failure to see the show. All others save face by falling by the corner of East 26 Avenue and Main Street.
For the tens of thousands of people who missed the January episode, you missed an epic show that will be rememberd by the less than tens of thousands of people who sat cheek to jowl in the Little Mountain Gallery. The new space has brought new fears and flat out anxieties. This means one thing for the audience: pure, uncomfortable entertainment.
Photo credit: Cate Cameron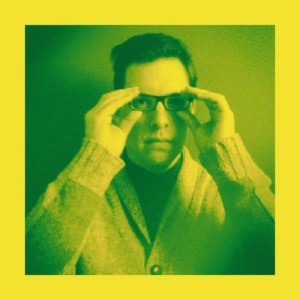 Out with the old, in with the same-ole, same-ole. As we all bid a heartfelt good riddance to 2012, I find myself in a reflective mood. Don't get me wrong, I am not reflecting on the year that was but rather on the one yet to unfold. Can one reflect on the future? Yes, when one embraces logical inconsistencies as I do.
I have never been big on setting resolutions. I have sat down and tried in the past. But each time I sit down to set out a revised set of life goals, the specific steps towards realizing such goals and the series of actions required to fulfill each step I replay the following conversation in my head:
Alvy Singer: "I give the whole thing four weeks, that's it"
Annie Hall: "I, I can't plan that far in advance."
Alvy: You can't plan four weeks in advance…"
Annie: "No"
Alvy: "…what kind of foresight is that?"
The answer, Alvy, is none, none foresight. Anyone who knows me or has felt me rub up against them in a crowded room knows I'm with Annie on this one.
Instead of resolutions I find the twilight days of every year are better spent on the serious work of lowering expectations for the year ahead. The lower the expectations, the greater the chance that I will not be as disappointed when I fail to live up to them than had they been set higher. That is what success looks like.
But today I feel a bit different about looking forward to the future. It may be because I have seen three moderately successful episodes of my Social Anxiety Hour. It may be because I weigh almost exactly the same today as I weighed on 3 January 2012 – the last time I weighed myself. It may be something else entirely. What I do know, with as much certainty as I can muster, is that I have had the privilege, through the Social Anxiety Hour to be in the company of some fantastic performers, each to a one eminently more talented and personable than I am. They do not make me feel inferior. No, they make me feel better because they think me worthy company to keep. I thank them for that but more than this I thank them for making me look bad. This means the audiences who have come out to the shows have enjoyed at least some measure of entertainment if only in my (by now) ritualized humiliation.
So with Auld Anxiety I cast my fate to the new year and to mustering up the courage to share my limitations with each episode of Kris Elgstrand's Social Anxiety Hour on the third Sunday of every month. I am also losing sleep over the new initiatives that 2013 will bring: special episodes, podcasts, Intimate & Awkward tours and some kind of benefit show to raise money for the production of my play, Ramifications of a Particular Crash. It's so hard to come up with titles that adequately convey the side-splitting laughter an audience will experience. I am so glad I hit the nail on the head this time. I mention these initiatives here as though they are planned or in some way preordained. No, due to my aforementioned Annie Hall-like proclivities, these will be approached with very little forethought or planning. Some might call this approach scattershot, others will call it willy-nilly. I, however, choose to take comfort in the haphazard. In a similar fashion, I am throwing my arms around commercializing the Social Anxiety Hour with the release of some specialized merchandise. It is in the back of my mind that this merch will go a long way towards laying the foundation for a future amusement park – the irony is not lost on me. Who's ready to ride the Anxiety Train through Panicland?
In the dying moments of these wishes for the dawning year, I predict that things will happen in 2013, some of those things will be episodes of The Social Anxiety Hour.  If you've attended the show before, please come again.  If you have't made it out to a show, please do.  In all cases, bring friends and if they resist feel free invite me to perform in your apartment or yurt.
Be it ever so humble there's no one like,
Kris Elgstrand
The effervescent Christina Sicoli, the handsome yet homely David Milchard and I appeared on The Rush with Mike and Fiona!  Watch the clip.
On Sunday 21 October 2012, for more than sixty minutes starting from 7:30 PM, Vancouver's Waldorf Hotel hosts the inaugural Kris Elgstrand's Social Anxiety Hour. The evening will feature a variety of bathetic music and side-splitting yet heart-breaking comedic performances from such guests as Brad Dryborough, Christina Sicoli, David Milchard, Arabella Bushnell and more. Kris Elgstrand's Social Anxiety Hour, hosted by Vancouver's own sad sack troubadour Kris Elgstrand, is a variety show for anxious times and Vancouver's new home for celebrating your Sunday Night Panic.
In 2010, Kris Elgstrand released his first recording, Songs of the Sad Sack, Volume 1: I'm So Disappointed, in the already-out-of-date compact disc format (it has subsequently been made available on iTunes and Bandcamp.com). To promote the album, Elgstrand embarked on his Vancouver-wide Intimate and Awkward tour of people's apartments. Both the tour and the album failed to meet even Elgstrand's most modest (read pessimistic) expectations. Following almost twenty months of dismal sales and only a handful of "likes" on popular social network sites, Elgstrand underwent about a twenty-minute period of introspection fueled by financial and creative desperation, where he came up with the half-formed yet fully-baked brainstorm for Kris Elgstrand's Social Anxiety Hour. Now, a few weeks later, his delusion hits the stage. And, following Samuel Beckett's dictum to "Fail, fail again. Fail better," the second and third installments are already scheduled for Sunday 18 November 2012 and Sunday 16 December 2012 respectively at the Waldorf.
Not since Nick Lachey and Jessica Simpson's effort in 2004 with The Nick and Jessica Variety Hour has there been such an ill advised attempt to reignite interest in the once popular variety show format. But here it is, Kris Elgstrand's Social Anxiety Hour.
Despite numerous creative and professional failures, Elgstrand has had a number of few-and-far-between successes. In 2012 Elgstrand was awarded a Leo Award for Best Feature Screenplay for Doppelgänger Paul, a film he also co-directed with Dylan Akio Smith. Doppelgänger Paul was an official selection at the 2011 Toronto International and is now available on for sale and rent on  iTunes. Elgstrand's first feature length screenplay for The Cabin Movie was an official selection at the 2005 Toronto International Film Festival and he has written, produced and directed a number of short films that have been screened across North America, in Europe and South America.  His plays have been performed in Vancouver, Philadelphia, Minneapolis, New York, Seattle, Winnipeg, Halifax and Whitehorse.
Nullify all positive developments in your life!
Depress your friends!
Alienate your family!
Host an "Intimate & Awkward" in your very own living room!
Free! (Plus a $75 surcharge)*
As part of a two-month celebration of almost one year of dismal sales of Songs of the Sad Sack, Volume 1: I'm so disappointed, I am undertaking another round of in-home Intimate & Awkward performances.  Think of it as Intimate & Awkward Redux or something to that effect.
The bottom line is: Throughout March and April I'm available to perform in your home (house, apartment, bungalow, tent, motorhome) for groups of 10 or more people who, in a perfect world, might be inclined to buy the CD, or at least listen to some of the music on it, or at an absolute minimum sit next to a stack of said CD without feeling pangs of guilt about not buying one.
*Surcharge not written in stone – will be waived in almost all circumstances particularly if you're willing to pass the hat among your friends and cut me in on the take or force your friends to overpay for the CD, which is always much appreciated.
See below for the nifty leaflet.  If you're interested in hosting an Intimate & Awkward evening in your home, send an e-mail to kris@legstand.com
The CD is currently available on iTunes, CD Baby and at Bandcamp.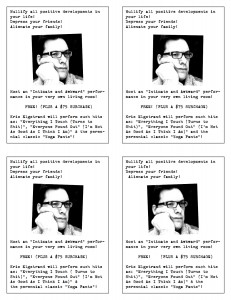 It's now the Intimate & Awkward Social Anxiety Hour featuring Songs of the Sad Sack! I'm proud to announce Justine Warrington, Brad Dryborough and Christina Sicoli (www.christinasicoli.ca) will be my guests on this 60 minute sad sack variety show.
Thursday, February 9, 2012
8:00PM
The Billy Bishop Legion (upstairs)
1407 Laburnum Street
Vancouver, BC
Admission by Donation
Scroll down the page a bit for a video clip of an awkward moment from last month's Intimate & Awkward at the East Side Actors' Studio.